Support Local!

Our Shop

Under new ownership and management as of October 2017.
​At The Coffee Loft, we do our best to accommodate everyone, offering gluten free and vegan options whenever possible. We have a diverse selection of pastries made fresh daily and a variety of sandwiches which are always available gluten free!
We strive to support local artisans, selling their work around the shop where you can find hand-made bracelets, rings, paintings, and various other knick-knacks.
At The Coffee Loft, we value relations with other local businesses and Jim's Organic Coffee is one of our strongest relationships.

"From farm, to roast, to brew", Jim's Organic Coffee's top priority is quality and patience for greatness.

​This local beanery provides happiness in a cup!
HOURS & LOCATION
Sun.
8am — 4pm

Mon. - Tues.
7am — 4pm

Wed. - Fri.
7am — 6pm
The Coffee Loft

406 Lincoln Street
Marlborough, MA 01752
(508) 251-2754
Parking
​
Customers may park in our small parking lot located right outside the entrance. There are five spaces labeled "customer", including a handicap spot. If our lot is full customers may park along the building on Lincoln Street or Winthrop Street, as well as Howland Street across from the building.
Powered by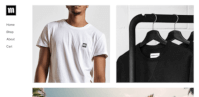 Create your own unique website with customizable templates.